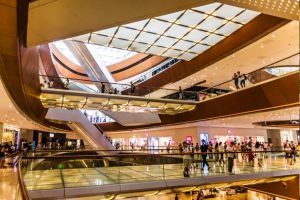 Over the past decade, the American retail industry has seen unprecedented growth. With rapid digital integration, a full increase in revenue and an increase in urbanization, the retail sector is expected to reach $7 trillion by 2025, according to many experts.
However, as analysts say, this is just the beginning, despite the competition posed by online shopping.
With the widespread emergence of organized shopping and retail units across the country, the retail sector is expected to grow at a rapid pace despite the rather new momentum that online stores have gained. As a result, investing in launching a shopping mall, even in small areas, can be a great business proposal as well as a great challenge.
Given that a business loan for a mall can be offered to you in a variety of ways, one can view malls as an ideal investment for a business venture. Apart from the mall itself, financing the operation of a shopping mall is also not hard, making it another reason that may encourage you to invest in such a business
Malls in Ideal Locations: Why Do They Make Good Business Opportunities
Malls are no new concept in the country and many parts of the world in fact took inspiration from the US, as they transitioned from unorganized retail sectors into malls and online stores, just like here in the US. However, malls are still in their youth as a sector – being just over a century old.
As of 2022, malls and supermarkets have found success not just in the largest cities but also in smaller cities, and many new projects are currently underway in many growing cities. Therefore, for those who want to get into the wholesale and retail business, or expand their existing business, it may be a good time to invest in these proposals.
Now, when it comes to financing a business, a few tasks will require a major investment right from the start. These include –
Obtaining the required permissions to build a shopping mall
Market research and research costs
Investing in the space in a business environment
Setting up the infrastructure
Construction costs, including the interior of the mall
Hiring skilled workers
Marketing and advertising costs
Operating expenses to cover costs such as utility costs, repairs, etc.
The cost list is too long – the list above is only a fraction of what expenses can be. However, with a good shopping mall loan, you can meet these costs without much hassle.
Types of Business Loans You Can Get for Your Mall
Starting a shopping mall or operating it, even on a small scale will require huge expenditure on your part. Even if you need to renovate or expand an existing one, you should also be prepared to incur significant costs.
To meet such expenses, you can apply for the following sorts/types of loans for your mall:
Commercial Real Estate Loan
As the name suggests, these loans are only available for the purchase or construction of commercial centers. These are large ticket loans, which can be used to adequately finance the purchase of an existing building or to build a new one in your mall.
However, these loans are subject to some restrictions, as the amount available can only be used to finance the purchase of a real estate.
Secured Loan
It is the common type of business loan, where you can get advance payment against your gold, residence or business, using those as collateral. These can be viable options as they do not limit end use and can be used to fund any part of starting a retail business.
However, borrowers should be able to satisfy a few borrowing terms for the eligibility of malls in this case, which may limit their chances of obtaining this loan.
SBA Loan
Getting an SBA Loan approved might depend strongly upon the eligibility for the business. If approved, this type of a loan can save you from high interest rates and hard terms. However, SBA loans can take a lot of time for approval and disbursement and may not have a high chance of being approved in the first place.
Alternative Business Loan
Alternative business loans are designed to serve almost everyone. They can offer more acceptability, higher chances of loan approval and quicker funding versus other options in the market. The limitation is that  most alternative loans would be significantly expensive versus other traditional loans as there tends to be higher risk involved in alternative lending.
Some loans are considered more ideal for some projects versus others, depending upon the way they limit or do not limit usage, whether they are large enough to be used to finance any of your mall needs – from infrastructure costs to operating costs, marketing or rental costs, and whether your credit performance and business plan can be served by the loan or not.
Also considerations such as requirements of security (collateral) and the qualification terms laid out, can impact your decision for taking out a loan for your mall.
Why Does an Alternative Business Loan Make an Easy Choice for Funding?
At Business Capital USA, we serve as an alternative lender providing quick and flexible loans which you can use for your mall business – no matter what stage the project may be in.
Our loans come with a number of attractive features that make them a great option for starting or getting funded for operating a shopping mall. Some of them are:
Online & telephonic service
Whether you need to get in touch with us for queries or whether you wish to apply for our loan, we have a service that's available on call and online – there's no need to visit our centers physically. You just need to process the loan application and every other need via our online portal or get in touch via a phone – no need for store or office visits. However, if so needed, our team can coordinate visits too.
Quick and reliable loans
The process from applying for a loan to acquiring it is much faster when you choose Business Capital USA. Also, the reliability of our loan – indicated by a high approval rate – is considered amongst the highest in-class.
Complete safety of your property & assets
Are you worried about the safety of your real estate, equipment, vehicles or gold? Worry not, as our loans need no collateral – just a personal guarantee of repayment is enough.
Get the maximum funding within your eligibility
The loan amount you get with us, can be any amount of your choice and we always work to deliver you the best estimate of loan eligibility, while also ensuring a fair margin of safety so it's likely that your business would be able to cover the loan.
Competitive interest rates and easy payment
While alternative lending does make loans expensive, we always offer competitive deals for our business loans. Additionally, we provide repayment flexibility that – subject to your eligibility – enables monthly or bi-monthly payments, easy pre-payments and simple terms to extend loans if needed.
Repay conveniently
Not just flexibility, repayments with Business Capital USA are also designed to be easy. With the support of ACH transactions, you're never likely to miss out on a repayment schedule.
Apply online
Having understood the benefits, if you are ready for the mall business loan, applying for it is an easy task! Just a simple online application gets you started and our team shall work with you once the details are filled in and submitted.