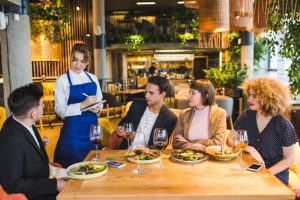 Many restaurants have been impacted heavily by the pandemic and have lost significant business, cash reserves, and even gone into debt. Almost everyone knows of at least one restaurant in their vicinity that closed down in the recent past. But some restaurants are using business loans and getting back their lost ground. We have also funded some small businesses – including restaurants and cafes – that have benefited greatly and not just returned to their previous momentum but have also grown stronger than ever before.
In today's topic, we use 8 takeaways that we gained as insight from those restaurant businesses who've seen great progress using loaned money to their advantage, in the recent past.
The 8 Great Ways
While there could be several ways in which loaned money can be used by any business, including restaurants, we have picked 8 that are generally turning out to be beneficial for businesses in the current market scenario.
1. Renovations and refurbishment
One of the most simple ways to spike curiosity and create excitement within customers is to make minor to major renovations and refurbishments in the existing restaurant facility. Apart from that, renovations and refurbishments often lead to improvements in the work environment and tend to keep employees more motivated at work. Done right, the value that such investments provide often surpass the invested amount multifold. In today's market environment, it is also easy to focus content marketing upon the renovations and refurbishments done, and take even more advantage of the investment that way.
2. Adjusting floor plans and seating arrangements
Depending upon the need, changing the existing floor plans and making seating adjustments can provide many benefits like increasing the capacity, easing movement, making the premises seem larger, and enabling social distancing. While priorities and needs may define what's needed to be done, dedicating funds towards getting it right, could be a step in the right direction. Many restaurants have used loans to get the funds they need to make changes that their current market situation required, and this has helped many of them serve the market efficiently.
3. Enhancing menus, offers, and promotions
Times have changed, trends have changed and the market demands are in many ways, not what they used to be. Many restaurants have invested in enhancing their menus, offering healthy foods, creating attractive offers and promotions, and a lot more, to take advantage of what's trending and what customers can afford or are willing to pay for. Furthermore, even the delivery of menus to the customers in the post-pandemic world is different – for example, today, most restaurants present digital menus that can be accessed from a mobile device while the orders can be placed with zero contact or direct communication with the serving staff. Many restaurants used loaned money for investing in such enhancements effectively.
4. Investing in training
From new staff to experienced ones, all could benefit from training – be it induction and orientation to a restaurant's standards and service design, or training related to hygiene, sanitation, safety, etc. Training has forever been seen as one of the most valuable investments in the restaurant business, but never has it been as significant as it is in today's environment. For every restaurant business that needs additional funds to invest towards training, a loan could be of help.
5. Implementing new technology
Technology has served as the backbone in managing many of the challenges that the pandemic brought with it. It has supported virtually every industry and the restaurant business is certainly one of those that has seen many developments and solutions that are practical and feature-rich. However, most technology comes with a heavy price tag. While returns on such investment tend to be significant and lasting, investing may be a challenge, that loans can help you with.
6. Refreshing the marketing strategy
No investment is seen by experts as having the potential to provide returns at par with marketing. However, marketing has evolved in unimaginable ways and it is safe to say that staying up-to-date has become the name of the game. If you haven't already invested time and funds to refresh your marketing strategy, you might be missing out a lot. Many restaurants have benefitted well by investing funds towards restrategizing their marketing and implementing the strategies thereafter.
7. Going online
If your services are not available online yet, there's a whole lot of opportunities that you might be missing out on. From home deliveries to online promotions, reservations, and more, the internet has become the most common way consumers discover and use the services of restaurants today, not just in cities but also in most towns and villages. Although there are many ways to go online without investing any money, some great ways may need investments in various forms, which can be provided by loans if needed.
8. Starting a new outlet
This list would be incomplete without this point. The pandemic days have shown that almost nothing is permanent and this includes the significance of the location. There can be great advantages of opening a new outlet in a new location or in an existing location where such demand is estimated. Costs associated with starting a new outlet can be managed efficiently through the use of a business loan.
Business Loans for Restaurant that are Easy to Procure
When procuring a business loan for a restaurant, chances are that you opt for an alternative lender due to the ease with which you can qualify and get funded. At Business Capital USA, we serve as an alternative lender offering quick, simple, and reliable loan solutions for restaurants, cafes, bars, and other similar businesses. To get a loan, simply fill in our online loan application and our team shall get in touch with you to provide suitable solutions.
Loans for Restaurants with Bad Credit Performance
Facing bad credit woes? Getting a loan for your restaurant shall remain no challenge as we provide restaurant business loans for bad credit borrowers too. Simply hit us up and your business could benefit from a quick and convenient borrowing solution.