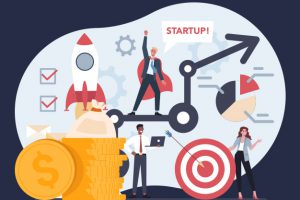 Startup businesses are challenging and the challenge is often the best part of owning a startup. One of the common critical requirements for most businesses is the source of funds. The availability of funds or the lack of it, can in many cases make or break a business and this is typically more so for startups. However, managing a source of funds for a startup business is not always easy. For example, even startup business loans are not the easiest business loans to procure. On top of that, if a business owner has a bad credit score, that can further affect the availability of funding options.
Many startup business owners think of loans as the holy grail to fund businesses beyond their personal finances. However, there are more options that one can consider, and loans are probably best once the business stabilizes. Why? Well, loans have to be returned in time else they can start to get quite expensive.
For this reason, despite us being a loan lending service, we shall start today's article with discussing 4 of the best funding options for a startup business, beside the business owner's personal finances.
4 Best Funding Options for a Startup Business
1. Crowdfunding
This is probably the right choice for any startup business that can get what they need out of it. Crowdfunding is a concept in which people, or the "crowd" contributes for a cause – which in this case can be a business idea. Crowdfunding works best for businesses that plan to do something that is very innovative or can work towards the betterment of life of people. Any concept that can be convincing for people to donate money towards it is probably going to benefit from a well-made crowdfunding campaign.
People with strong social following or PR skills can use crowdfunding even better. For example, musicians with huge social media followership numbers tend to attract great results if they choose to utilize crowdfunding. The best part – donators only expect non-monetary rewards, i.e. they do not expect money in return for their donation. Of course, not all start up ideas would be able to attract crowdfunding or even qualify for it.
2. SBA Loans
Loan schemes like the SBA 7(a) (Loan for Start-ups and Entrepreneurs) and SBA microloans are reasonably safe given the protective terms laid out under the schemes. However, any financial product comes with a risk associated with it. What makes SBA Loans also tend to have more affordable rates of interest and fees that are associated with them, when compared to most other borrowing options open to businesses.
However, 2 prominent factors make SBA loans less attractive for some business owners:
It is not very easy to qualify for an SBA loan
SBA loan approvals can take a long time and the processes may not always be easy.
3. Business Credit Cards & Line of Credit Loans
Business credit cards and line of credit are available from some banks and non-bank direct lenders. These work much like personal credit cards – a defined limit is made available and interest is charged as per the amount of funds actually used. They give a ready source of pre-approved loan amounts that the business can use as required.
Again, these are not very easy to qualify for, but once you do, there's a fixed amount of time until when the available limit is yours to use. For start-up businesses, these loans tend to typically be approved based on:
Personal finances of the business owner(s)
Credit history of the business owner(s)
Guarantor(s) if any
Collaterals (in case of banks loans).
4. Alternate Business Loans
Alternate business loans are offered by non-bank direct lenders like us at BusinessCapitalUSA. Within certain legal limits, direct lenders like us have an option to be more flexible and offer loans with which higher risks are associated.
Alternate business loans, at the direct lenders, can be made available for businesses owned by bad credit score holders. In the case of start-up businesses, these might be the only such options available to most. The other advantage is that trusted and experienced direct lenders tend to offer the advantage of quick loan approvals and transactions.
However, with higher risks come higher expenses and that feature of the market makes these loans more expensive than the other choices mentioned here.
Alternate Business Loan for your Startup
It's time for us to throw light upon our services. If you're an owner of a start-up business, you can get a loan from us if your business has seen a smooth financial journey for as little as just 6 months. We offer alternate business loans which are approved quickly and subject to eligibility to our loans, you can get the funds you seek in as little as just 2 business days.
The application process is very easy. You simply need to apply online or call us at 800-821-6460 and we shall require a few basic details to start working with you towards a loan that suits your business needs.
Startup Business Loan with Bad Credit, No Collaterals Required.
Most startup business owners seeking a business loan while they suffer from a bad credit score, choose a trusted alternate business lender like us at BusinessCapitalUSA. The 2 biggest advantages we offer include:
Bad credit score holders are welcome to apply
No collaterals required for the approvals of your loan applications.
These along with the fact that we can avoid credit checks upon your requests, make our loans very safe for borrowers who have a poor credit history.
So why wait? If you qualify for our business loan, go ahead and drop a query through our online application form!