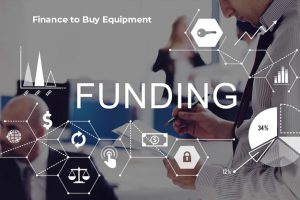 Equipment financing can be the best option when you are planning to enhance your business with the equipment of your choice.  No matter your business size, with this type of financing you can buy any equipment ranging from furniture, tractors, computers, printers, and air conditioners to electronics, coffee vendors, or ovens.
What is Equipment Financing
Equipment financing allows you to buy the much-needed brand-new or second-hand equipment and upgrade or replace existing equipment; without digging into cash reserves or working capital of your business for an outright purchase. Instead, equipment financing, as a loan from a lender, allows you to buy the equipment and then keep making periodic payments on agreed terms, including interest and principal, over several months or years.
Suppose a traditional lender like a bank turns you down due to a low credit score or the small size of your business, in this case, it is best to find other equipment financing options. You even get ownership of the equipment once the loan is paid off.
Advantages of Equipment Financing
Allows you to boost your business credit score.
A secured, affordable loan option.
Buy any equipment to grow your business.
Less paperwork and quick processing.
Avail tax advantage by depreciating equipment value.
Disadvantage of Equipment Financing
Costlier option in the long run.
Loan repayment strains business cash flow until paid off.
Missing loan installments can damage your personal and/or business credit score.
How Equipment Financing Works
It is best to look out for a financier who can offer the most lucrative loan deal while you hunt to buy equipment for your business. A deal that is manageable for your business's financial position. The exact terms of an equipment loan depend on various factors, such as the type of equipment purchased and/or the business's financial constraints.
Suppose you seek equipment financing; it's better to have a comprehensive, well-written business plan ready. A plan that describes your business activities and outlines its growth potential helps equipment finances assuage their apprehensions about the risks and benefits of your business. Accordingly, the lenders will decide how much money can be released for equipment purchase and whether associated interest or any collateral is needed.
Lenders like Business Capital USA issue equipment financing; that are much more flexible, affordable, and customized to meet your requirements. We provide online equipment finances to desirable candidates after due diligence for up to $2 million. If your business has been in operation for at least one year and generates sales above $15,000 per month, we can make it happen for you.
Things to Know to Get Equipment Finances
You must keep an eye on the right source to apply for an equipment finance loan. The equipment finance industry reported a business of a whopping $1.6 trillion in 2021, meaning the industry is flush with funds and ready to provide finances to anyone deserving. Apply for equipment financing only when it is the right time for a purchase to be made, and not for something you want to buy in the future. You also need to know the qualifying requirements and associated interest rates, among other things.
To qualify for an equipment finance loan, it's important that: –
you run a registered business, be it a sole proprietorship, corporation, trust, public or private limited company, partnership, contractor, etc.
your business has been in operation for at least one year and generates gross sales of $15,000 per month.
you as a business owner possess a Social Security Number.
your Business Tax ID / EIN is valid.
Based on the above, lenders will decide whether to finance the equipment purchase in whole or part. You can apply for equipment financing from lenders like Business Capital USA; by providing the following: –
Business address proof
Business registration proof
Last three months' bank statement of the business.
Details of machinery to be purchased.
You can avail of hassle-free online equipment financing from Business Capital USA within minutes, based on the three 'S' principles of 'Simple,' 'Smart,' and 'Speed.' Buy the best equipment for your business today.