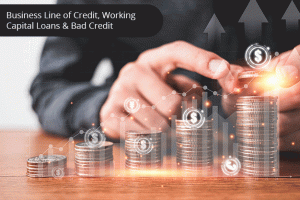 Today's lending market has a lot to offer. From businesses that are worth just a few hundred dollars, to those worth several hundred billions of dollars – all have access to a number or debt options that may serve as the backbone, a stepping stone or simply a means to fuel smooth operations.
Businesses today use these various debt products for similarly vast number of purposes. While some businesses use debt to grow, expand and diversify, some may just be using debt to sustain through a tough season. And then there are investment and divestment related uses too – the list can simply go on and on in the ever-changing world of business.
There are two closely matched loan options which have been enjoying a high demand in the recent years. Some of their uses are common and some of their principles are similar. Today, we shall discuss these trending types of business loan products in further detail – Business Line of Credit and Working Capital Loans. We shall also pay special attention to understanding which of these products is better suited for a business, which is partly or wholly owned by an individual with bad credit scores.
What is a Business Line of Credit?
A Business Line of Credit is a type of business loan in which a lender agrees to keep an available limit of funds at the disposal of a business, out of which the business can choose to borrow any amount within the limit for any length of time and pay interest only on the borrowed amount of money.
As easily noticed from this above definition, it works much like a credit card and some lending companies may associate a credit card feature with this loan.
Businesses use such loans for day-to-day expenses as well as small capital expenditures at times. However, it is safe to say that largely, the uses of these loans are not significantly different from the latter discussed Working Capital Loans.
A major limitation of this sort of a loan, is that most lenders only offer this to small businesses when the owner(s) has/have a good credit history. Very select few lenders do offer such loans to bad credit borrowers too, but the associated charges and interest rates then tend to be very high, which leads to those loans being in limited demand. Apart from this, the line of credit is typically offered subject to a security deposit or a one-time fee, which tends to be higher than initial expenses related to most Working Capital Loans.
Advantages of a Business Line of Credit
The main distinct advantages of the Business Line of Credit for the borrowers include:
Interest only needs to be paid on the borrowed amount
The limit authorized, acts as a pre-approved loan amount readily available for borrowing at any time
Can be effectively used on small capital expenditures and to maintain a healthy liquidity and cash flow.
What is a Working Capital Loan?
A Working Capital Loan is a type of business loan that is intended to provide financial support for a business' day-to-day operations/expenses. Typically, these are intended to cover operational needs and not to cover long-term investments, or for purchases of long-term assets, etc.
Expenses such as salaries, raw material purchases, emergency expenses, and other items that are typically what businesses use liquid capital for, are examples of what businesses commonly use such loans towards.
Working Capital Loans are offered to bad credit borrowers also, by some of the most trusted alternate business loan lenders, like us at Business Capital USA.
The more closely linked a business' finances are with the business owner's personal finances, the more the owner's credit score and history may influence debt options available to the business. However, our business loans can accommodate requests from businesses owned by individuals with virtually any credit score.
Advantages of a Working Capital Loan
The main distinct advantages of the Working Capital Loans for the borrowers include:
Since the amount of money approved as a loan is being fully utilized, many lenders offer lower interest rates on Working Capital Loans than they would offer for a Business Line of Credit
Bad credit borrowers are more readily accepted by some alternate business loan lenders offering these loans
Many businesses prefer using these loans to maintain a healthy cash flow
This loan eliminates the need for collaterals – it is typically an unsecured business loan.
Applying for a Working Capital Loan for Bad Credit
Getting a Working Capital Loan is as such a rather simple task. However, a bad credit score can hinder some options. If you're looking for a business loan while you suffer from the difficulties that bad credit history can endow upon you, Business Capital USA shall always be here to assist you and provide your business the funds it needs. Applying for a Working Capital Loan with us takes nothing more than just a few minutes. This online application can get you started and once we have the required information, we shall get in touch with you to offer you deals that can work well for your business.